If we have seen how to choose your wedding suit according to the seasons (link), it is also important to define the style of your wedding suit. Casual, luxurious, country... your suit should match the theme of the ceremony. Let's take a look at some possible styles.
The classic wedding suit
Let's start with a rather classic choice of suit. For those who are not used to wearing suits or who wish to stay in a classic, even traditional style In this case ,a 3-piece, 3-button suit, consisting of a jacket, waistcoat and trousers is the way to go The classic colours of the suit are dark blue, midnight blue or black. As for the material, the wool suit is a solid choice. The classic suit is a safe choice to match your better half A image consultant suit will allow you to subtly distinguish yourself with an original type of tie or accessory. The more elegant wedding dinner jacket is also an interesting option.

The casual suit
Perfect for late spring or summer weddings, giving your wedding suit a more casual look is an option that should not be overlooked. Opt for a 2 or 3 piece suit with a classic jacket or why not, a double-breasted jacket, in a lighter material such as linen or fresco wool which is thermoregulating. The suit can be dark: navy blue, midnight blue or dark brown But also in light colours: light blue, beige, light grey, sand.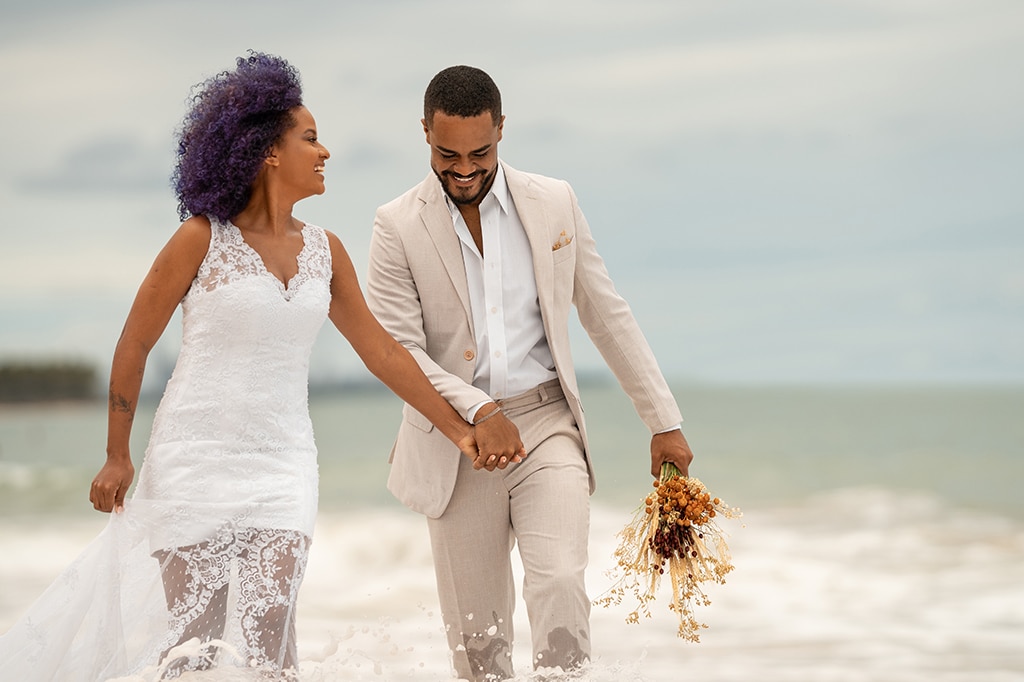 With a casual suit, you can skip the tie and opt for a bow tie or a quality clutch. Because casual doesn't mean sloppy, our image consultant will help you find the perfect outfit for your wedding.

The country suit
A summer trend, the country wedding requires a suit with colourful tones and a rather light material. Choose a light blue, pale pink, beige or green-grey suit. The pastel colours of your suit harmonise with the country setting Nothing is better than a suit made of linen or light wool (weight less than 240gr/m2 ). You can also choose awool flannel suit for a more scratchy look and if your wedding takes place in a cooler season. For a country style, the wedding suit can be completed with a waistcoat in country colours and accessories such as braces, a floral pocketkerchief and of course a matching tie Don't forget the right shoes: moccasins or a pair of suede Clarks.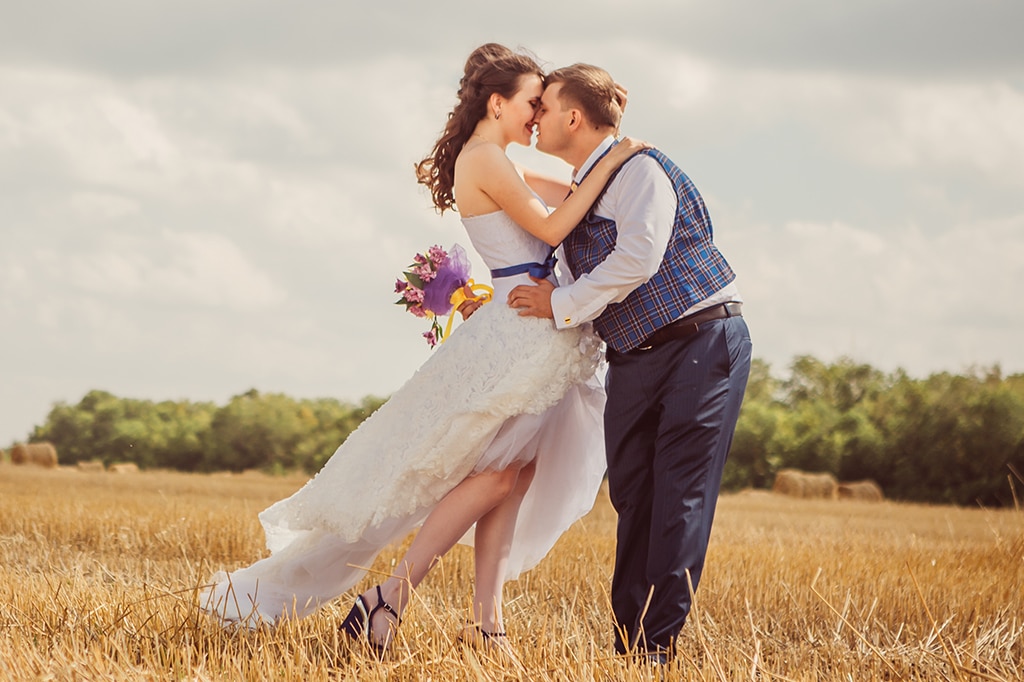 The bohemian wedding suit
Do the values of carefreeness and freedom speak to you? Choosing a suit for a bohemian wedding means breaking free from certain codes and moving away from the traditional wedding suit . In any case, be elegant with a 2-piece made-to-measure suit, in fresco wool, linen or seersucker for the summer. The latter offers a slightly crumpled look for a relaxed and original suit In terms of colour, the bohemian suit offers more choice: light colours like blue, pale pink or even white. The seercusker also offers the possibility to create a suit with white and blue (or red) stripes for example. The tie is still an option. Thin and worn slightly loose, it will be perfect for a bohemian wedding. Punctuate your outfit with a bow tie, braces and why not, a hat.

The chic wedding suit
The purpose of the wedding suit (whatever it is) is to make a good impression, that goes without saying. For a chic or luxury wedding , your suit should follow certain codes Choose a three-piece suit (jacket, trousers, waistcoat) made of noble materials (wool, cashmere, silk, tweed). Don't miss the matching tie and the Richelieu shoes with buckles, essential for a chic wedding outfit. Pay attention to the right balance, you don't want to overdo it to look chic. The chic is in the details of the material, the cut or the lapels of your suit.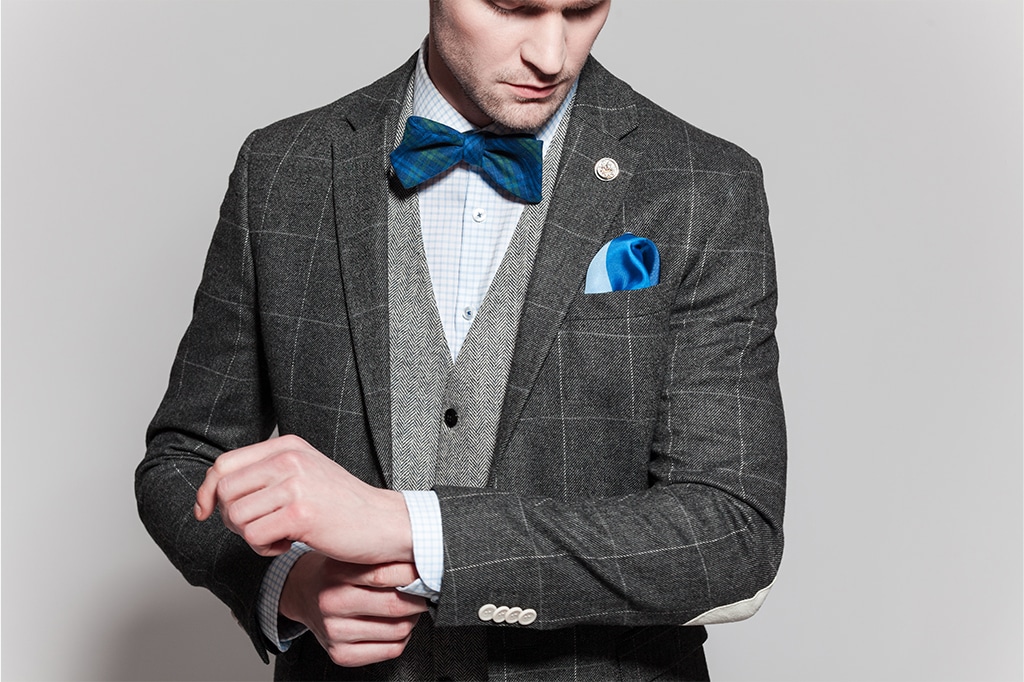 This isalso the time to choose a dinner jacket for your wedding suit.

The vintage wedding suit
The vintage wedding inspired by the 50s or 60s is very fashionable. It is distinguished by its fitted cut and its sobriety (some would say it is austere). Its little plus? This suit can be worn on different occasions Choose a charcoal grey, light grey, brown or black 3-piece suit. The shirt remains plain or checked The vintage look of your outfit is reflected in the accessories: tie clips, a discreet clutch, loafers or patent shoes. This suit with its retro charm can be worn in everyday life.
To find the ideal style for your ceremony, book your discovery appointment with our image consultant.