The big day is approaching! Everything is ready ... or almost. Nevertheless, there remains an important point to decide - and not least - that of the choice of the suit of the grooms. From the start, the question arises whether the outfits at a gay wedding should match or whether it is better to play on the opposite. At first glance, there is no direct answer to this question. The golden rule is to always opt for a choice that will allow the two grooms to feel comfortable, and honoured as they should be on this great day, and have a wedding to their taste.
GAY WEDDING SUITS: SHOULD THE OUTFITS MATCH?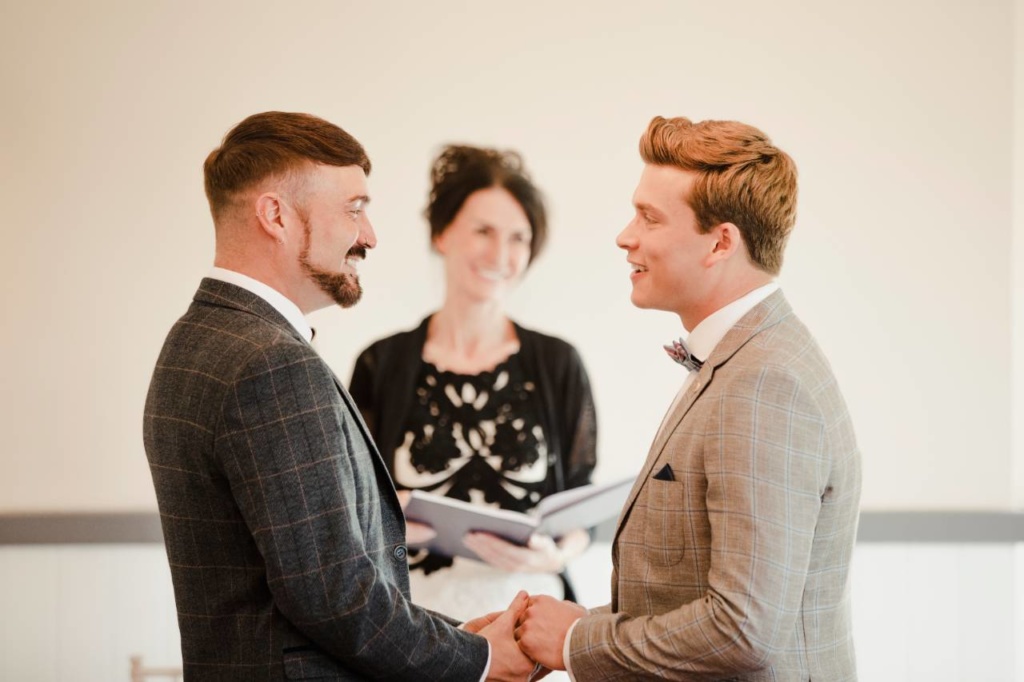 If you have the same morphology as your spouse and you share the same tastes, it is obvious that you will naturally orient your choice towards the same type of suit. This is not a problem, it can actually look very nice. This means you'll be able to agree quicker and have an easier time matching your outfits. Moreover, who says matching outfits does not necessarily say two identical suits. You can think of two suits designed differently or with different finishing touch while using the same fabric. This is where we understand the need to get advice and make costom-made suits.
Matching your suits without choosing identical ones also allows you to tune your outfits even if the grooms have different morphologies. Therefore, everyone will be entitled to tailor-made design while keeping a visual coherence, using the same fabric or revealing a common design made by the tailor.
SHOULD YOU DRESS THE SAME WAY FOR A GAY WEDDING?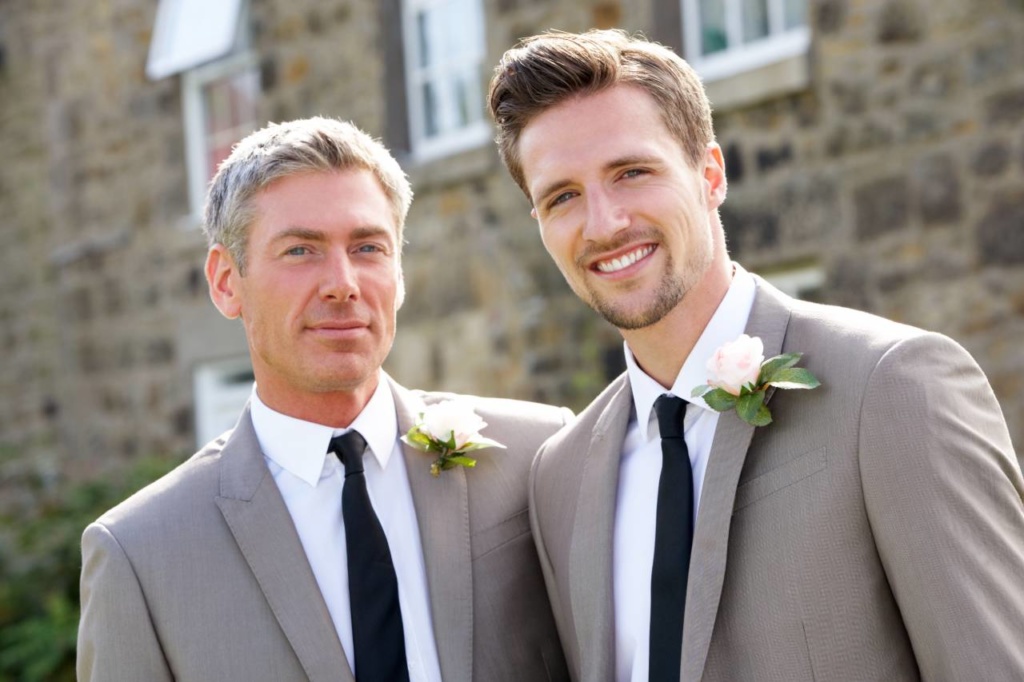 Choosing a totally identical suit for both grooms is also not totally out of the question. Do not be afraid to be judged or compared, you must also assert yourself as a close-knit couple. Dressing with identical suits can emphasis on the uniqueness of your relationship, the strength of uniting two men and highlight the cohesion of your relationship. Do not forget to drop by a tailor when making this choice. Even if you want the suits to be identical, they may still require adjusting here and there.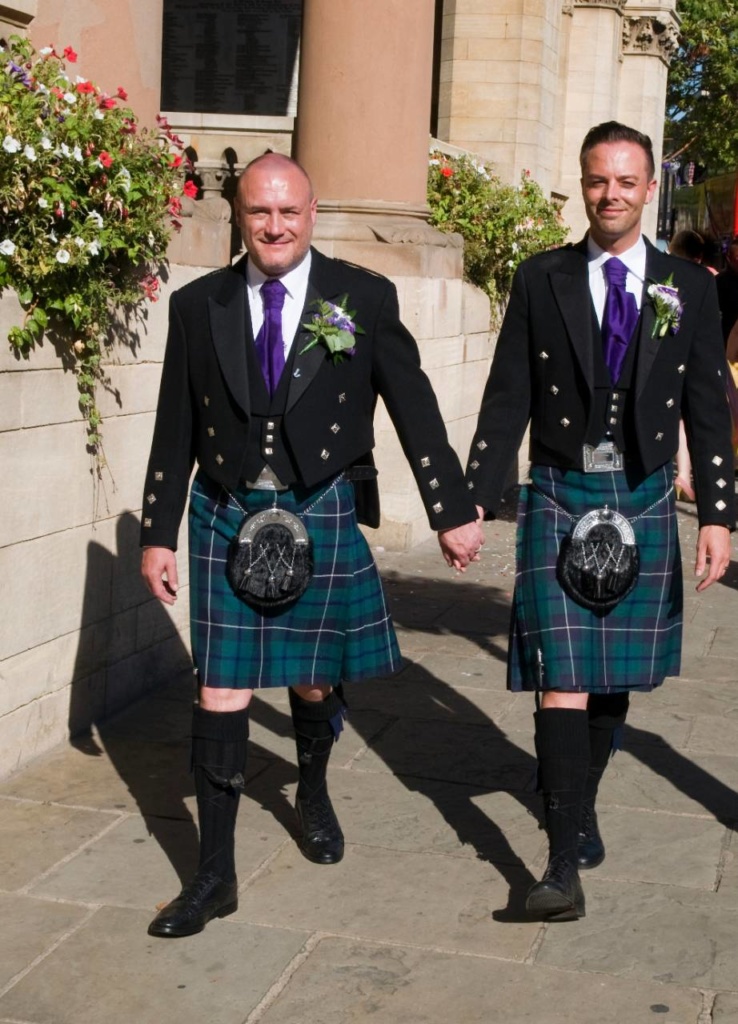 DON'T BE AFRAID OF HAVING TWO DIFFERENT STYLES OF SUITS FOR A GAY WEDDING
One would think that choosing two different types of suits for a gay wedding is a simple choice. Indeed, each chooses the suit that pleases him and that avoids a lot of problems ... But this is wrong. It is possible to find in a mismatched suit, which are diametrically opposed, some coherence in the difference. It is quite possible to bring out the personality of each spouse, to assert their differences, without giving the impression of being two people who have trouble agreeing on an outfit for the day which is supposed to celebrate their union.
By receiving some help and guidance during your suit fitting, an experienced tailor will perfectly understand your desires. It is perfectly understandable and possible to help you look different from each other and to be able to affirm your couple as people with distinct characters and tastes, while guiding you towards choices of suits that will still go perfectly together.
SHOULD YOUR SUIT BE A SURPRISE TO YOUR FUTURE HUSBAND?
Everyone should have the right to be surprised to discover his companion in the suit for the first time on the wedding day. This tradition should not be reserved for the wedding dress only. If for you, discovering your husband-to-be on the Big Day in his new suit is important, you will quickly realise that it is difficult to choose a suit separately, while also hoping to match.
To avoid unpleasant surprises, it is best to choose a mutual friend or family member to attend your suit fitting and those of your companion. Even simpler, choose the same tailor, who can guide you one after the other.
His advice is valuable because he has a clear vision of the choice of both spouses and if you trust him completely, he can help you find different suits that will remain consistent with each other.
BE ADVISED BY A STYLIST TO CHOOSE THE SUITS OF THE TWO GROOMS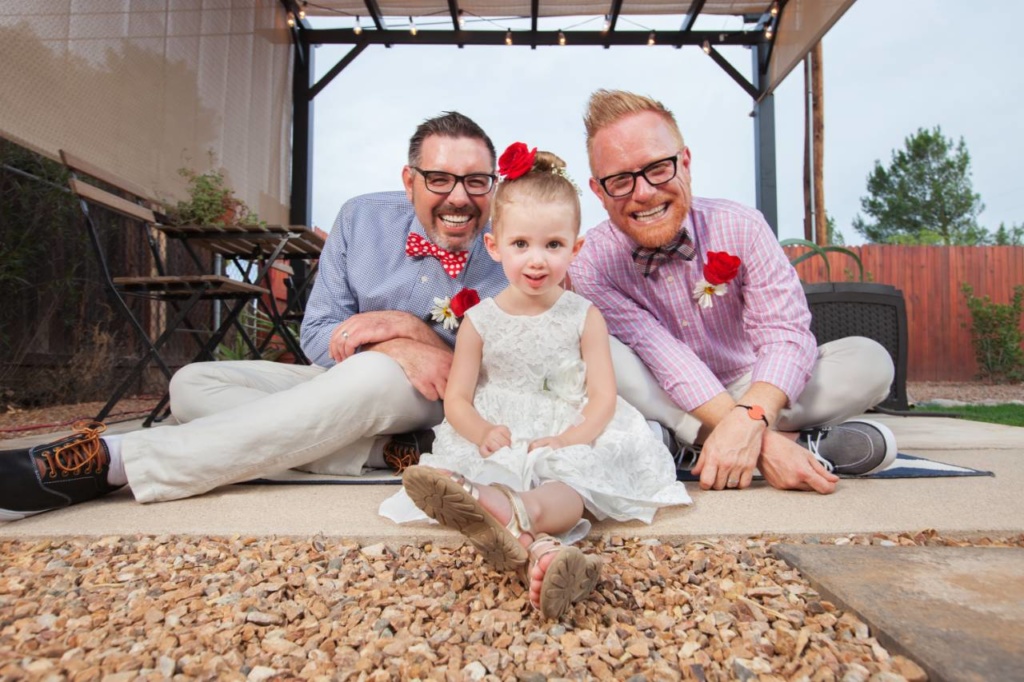 Now that you have a clearer idea about what you want or on the contrary, that you are even more lost, do not hesitate to push the door of the La Maison de Maîtres. We will receive you within the privacy in our shop privatised for the occasion. Our visual consultants will help you design your tailored wedding suits.
Learn more about the many gifts we have in our "Ceremony" formula for you. In addition to our wise advice, you will leave with two free dress shirts and a personalised embroidery.
* It's free and without commitment 🙂