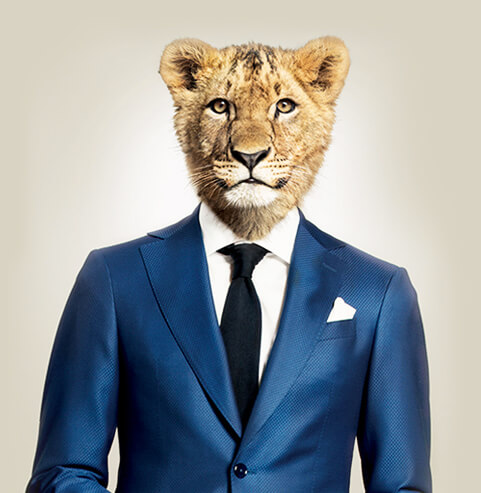 Tailored suits in Brussels
WE WILL SUBLIMATE YOUR APPEARANCE AND YOUR PRESENCE BY MAKING A TAILOR – MADE SUIT TO YOUR IMAGE.
Making a Custom-Made suit at "La maison de maîtres" is starting from a blank page and choosing each element of your suit while comfortably seated with a drink to share with our tailor.

Our finest creations
Book with us a special moment (30 min.) of one-on-one with our tailor and image advisor. It is free and without commitment.

Ordering a tailored suit, a privileged moment
Your first meeting with the tailor master, in 3 steps
"YOU KNOW WHAT YOU WANT, WE MAKE IT. YOU DON'T KNOW, WE DISCUSS"
Our team is experienced, has good taste and a passion for traditional craftsmanship. For us, this is the only way to guarantee a perfect measurement and to guide you correctly in your choices so that your clothing corresponds to your morphology, personality, complexion, hair color, …
We welcome you preferably by appointment in a comfortable environment where you will be advised by our tailor. Whatever your budget, your need, your desire, we will guide you for the creation of your TailorED Ceremony, Business or Casual suits.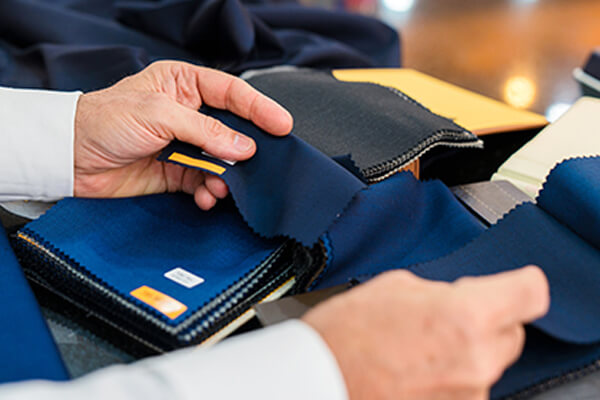 THE FABRIC
"A FINE SUIT IS FIRST A FINE FABRIC."
For the realisation of Tailored suits, whatever your budget is, we only offer fabrics from the best European spinners: Loro Piana, Ariston, Scabal, Cerruti, Zegna, Holland & Sherry, … We never compromise the quality of the fabric which is the base of a handsome garment.
CUT AND STYLE
Do you prefer a fitted cut for your suit or rather a comfortable straight cut? Is your style "classic and formal" or rather "fashionable and relaxed"?
The Made-To-Measure opens the door to all possibilities.
Each piece is individually cut from a unique pattern, resulting in a balanced Tailored suit with flattering lines.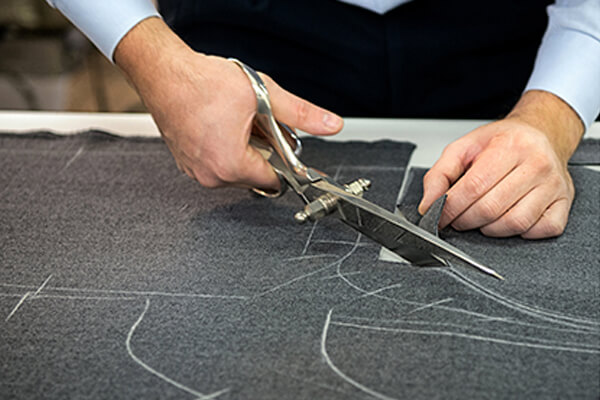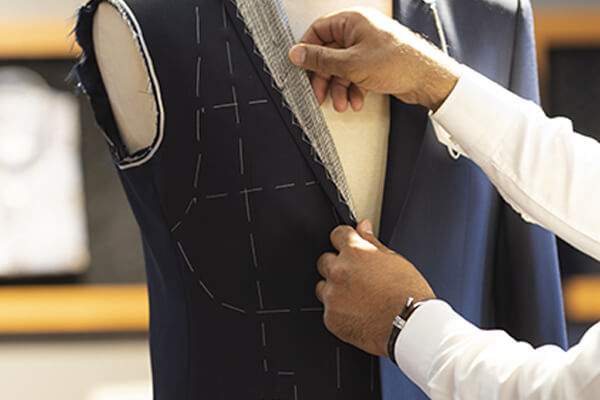 FINISHING DETAILS
Your Tailored suit must reveal some of your character and something personal. This is why our suits allows for a large number of customisation possibilities. Special attention is given to every single detail of the production which makes our suits genuine traditional pieces.
Our tailor will take each of your measurements. Then, he will make a sample profile which will allow us to know your feelings in terms of comfort and choice of cut.
It is the combination of these two approaches that allows to obtain a flawless result faithful to your expectations in terms of the style and comfort of your Tailored suit.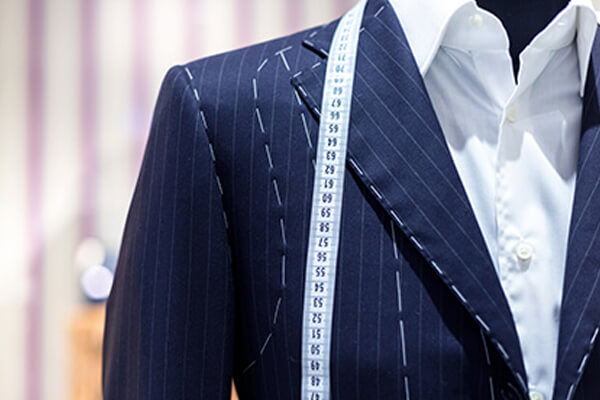 3 THE CHOICE OF THE MANUFACTURING WORKSHOP
Depending on your budget, you choose your finishing level amongst several European workshops which means that for the same fabric, the same suit will be offered at different prices.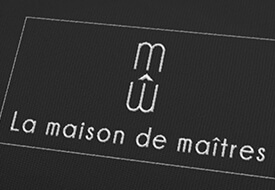 Black
Tailored suit made in Portugal from 850 € (suit jacket from 600 €, trousers from 250 €).
Optional half-canvas and hand finishing.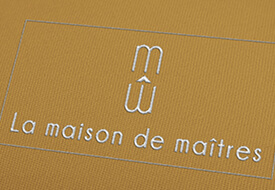 Aurum
Tailored suit made in Italy or Portugal in a traditional way (half or full canvas, hand finishing and unlimited customisation possibilities) from 1250 € (suit jacket from 850 €, trousers from 400 €).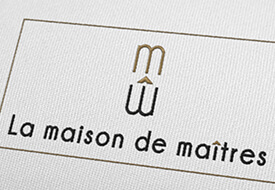 Bespoke By
Sartoria Luigi Melluso or Orazio Luciano: Tailored suit entirely handmade in Italy from € 2,200 (suit jacket from € 1600, trousers from € 600, coat from € 3,000). Unlimited customisation and style choices.
SHARING OUR PASSION WITH YOU FOR NEAPOLITAN TAILOR-MADE

SUBLIMELY LIGHT


SUBLIMELY STYLISH


SUBLIMELY CUT
TO DRESS EFFECTIVELY
Let your tailor take care of it
"I want to be stylish without wasting time"

LET US GUIDE YOU BY OUR IMAGE ADVISOR DURING A DISCOVERY APPOINTMENT.
A PERFECT SUIT, FOR TODAY AND TOMORROW LIKEWISE
YOUR 2ndAPPOINTMENT, TRY-ON AND ADJUSTMENT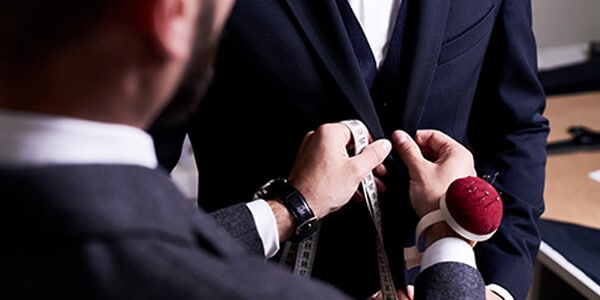 Trying-on and adjusting your Tailor-Made suit
The realisation of a Tailor-Made suit requires at least 1 fitting before obtaining a perfect result.
The uniqueness of « La maison de maîtres" is that for each product offered, we provide an internal professional service associated.
« L'Atelier des Tailleurs" is our workshop of Master-Tailors who manage all alterations on the sold pieces. We of course intervene at the time of fitting to adjust your garment to perfection but also after the sale if necessary. Your long term satisfaction is our priority.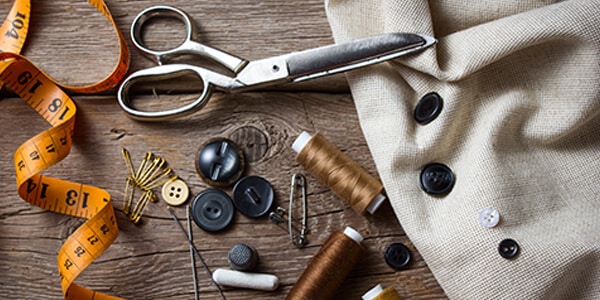 Care of your suit over time
Our service does not stop here: we ensure the maintenance and repair of your Tailored suits throughout their lifetime.

THE DIFFERENT FINISHES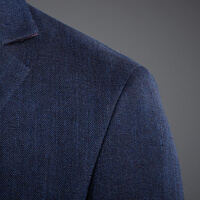 Shoulder
You have the choice between a supple and natural shoulder without padding (Neapolitan) or with a light padding (Roman) or rather rigid and classic with a large padding (English).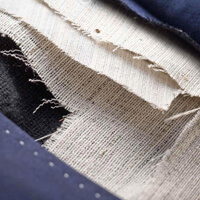 The interlining
This is the part between the lining and the fabric of the suit jacket. In our semi-traditional and traditional finishes, we use various layers of canvas interwoven with horsehair. This traditional construction gives an elegant look to the suit jacket that adapts to your body as it is worn.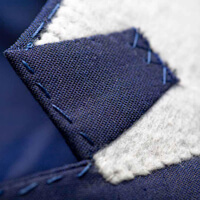 Felt under the collar
It is sewn by hand and its colour can also be personalised.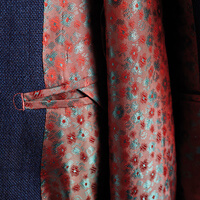 Suit jacket lining
A wide choice of solid and fancy colours is offered. We only use natural, breathable, materials: viscose, Bemberg or natural silk.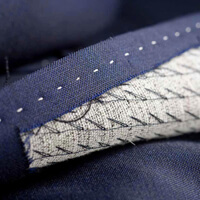 Reverse sleeve
By attaching the interlining to the back with a certain tension, we create the famous rolling felt which is more natural and elegant.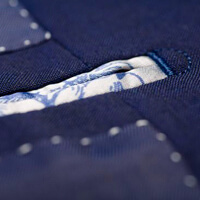 Pockets
The pockets are the subject to particular attention. Each pocket is reinforced by a hand-made half-moon stitch. The pockets can be chosen straight, angled, stitched outside or inside, with or without a flap. Optionally, a "Dupont" pocket with reference to the lighter of the same name can be added. Upon request, other pockets can be made for glasses, coins, pens, cigars or important cards.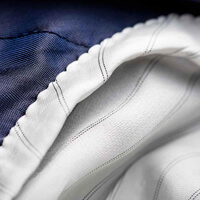 Sleeve lining
For the sake of comfort and durability, we use a different lining for the sleeves, which is lighter and has less grip. It is assembled by hand by an invisible seam improving the comfort of the suit jacket.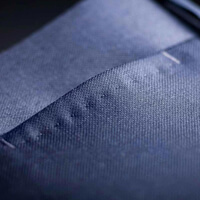 AMF points
These allows to effectively secure the interlining with the fabric giving a Tailor-Made rendering. This sewing takes a lot of time and we offer it along the reverse side but also, as an option, on the other seams of the suit jacket and on the side pockets of the trousers, therefore, allowing them to stay well in place.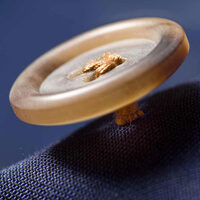 Buttons
Made of plastic, horn or natural mother-of-pearl, they are sewn by hand with a cross-stitching using silk thread which improves their hold.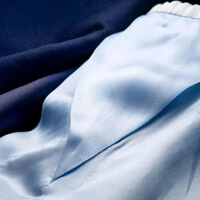 Underarm protections
These provide good moisture control and are sewn at the armpits and surrounded by a lining to ensure total discretion.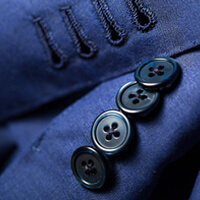 Buttonholes
We offer at no additional cost genuine buttonholes which are truly a sign of a Custom-Made product. The color of the threads or the seams can be customised.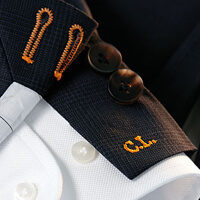 Embroidery
Each piece can be embroidered with your name, your initials or reference a special date inside your suit jacket or trousers.
LET US GUIDE YOU BY OUR IMAGE ADVISOR DURING A DISCOVERY APPOINTMENT.