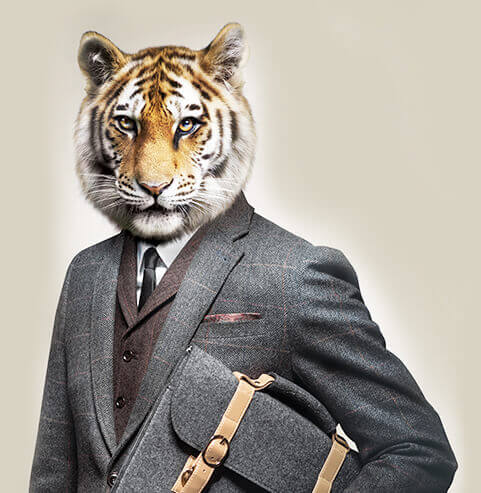 TAILOR-MADE ACCESSORIES IN BRUSSELS
ACCESSORIES ARE THE FINAL TOUCH THAT WILL BRING OUT YOUR OUTFIT
We travel all over Europe to find the best craftsmen and showcase their expertise. A sumptuous range of accessories, which expands over time, has emerged.

ORDER YOUR ACCESSORIES
BELTS
Just like a fine pair of shoes, a nice belt is the accessory which makes all the difference in a man's outfit. Ours are done meticulously by hand so to not overlook a single detail. True treasures.
We offer classic belts and sportswear ones in nappa or bull leather. Upon request, we can make your belt in the leather of your choice (ostrich, crocodile, lizard, snake …).
The belts are available in classic tones (black or brown) but can also be patinated in any color of your choice. Nothing is more elegant than a belt that matches the patina of the shoes!
BAGS
Briefcase, document carrier, backpack, luggage,… Our bags are unique. Each piece is handmade individually by a leather master.
Tailored leatherwork: for an additional fee, we can make a Custom-Made piece of leatherwork from pictures or drawings.
SMALL LEATHERWORK
Wallet, change purse, card holder, key ring, ipad cover, iphone case … the "small leatherwork" is part of our daily lives.
Our pieces are small works of art which are sensual wonders to handle. Just like for the bags, special care is taken in the making of these accessories which form a treasure trove of gift ideas as original as they are sublime.

THE DIFFERENT FINISHES
The art of patina
Handmade patinas. Various colors and effects are available.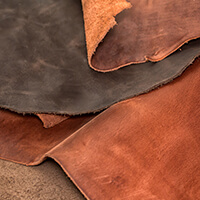 The leather
High quality Italian full grain leather with traditional leather tanning.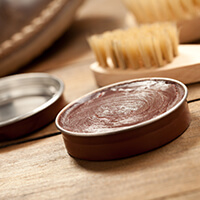 The maintenance
The polishing and nourishing of the leather is done with products of the brand French Saphir, made without alcohol, resin or silicone.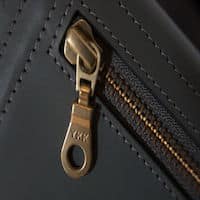 The fastening
Fastening made with YKK zip closure and seams made with German Gutermann thread (strength and elasticity).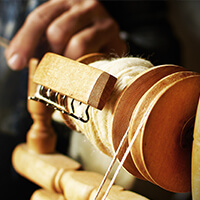 Lining
Made with Honegger Italian cotton lining, which is luxurious and breathable.

KNITTING
Gloves, hats and scarves … we offer the winter essentials in 100% cashmere only. This material is exceptional because it combines lightness, warmth and softness.
Each piece is designed in France and made by manual crafts in Nepal or in Mongolia from the longest and finest fibres.
We offer the possibility of embroidering the pieces with your initials or date of your choice.
CUFFLINKS
Ranging from a conventional to a fancier style, the cufflink sublimates your dress shirts and brings a touch of originality.
We offer these in various materials and colors. With or without complexities, fun or conventional, we have something for every taste.
We make them in steel or even in 18 carats gold or silver with the possibility of engraving by hand initials, a date or a coat of arms. It's one of the only easy-to-wear men's jewelry so why not go for it?
SHOE MAINTENANCE
A fine pair of shoes can last a lifetime if it is well and regularly maintained with quality products and accessories. In our opinion, the best brand is French and is called Saphir. All these products are made only from natural materials.
This line covers all the needs for the preservation and embellishment of all leathers: polish in 75 colors, maintenance cream, anti-stain for leather and suede, waterproofing, brushes, polishing gloves, laces, … The shoe trees are also an indispensable accessory to have for the preservation of your shoes. We offer them in cedar wood in all sizes. For a perfect hold, they should fit the length and width of your shoes.
TIE / BOW TIE / HANDKERCHIEF
Whether it is for a wedding, a ceremony or in the business world, the tie and the bow tie remain signs of remarkable elegance. We offer plain models in 35 different colors as well as ones with creative patterns in silk or imitation.
In collaboration with Stéphanie Dewitte, a Belgian craftsman, a line of creative bow ties in natural silk is also available in the store.
SOCKS
Quality socks are an essential addition to beautiful shoes. Our socks are made in Italy where they are finished one by one by hand. Depending on the season, we offer them in various noble materials that we offer in several colors: Filoscozia cotton, Egyptian, Scotland thread, silk, cashmere,…
Thanks to the craftsmanship of our supplier, we ensure to offer a soft, light mesh which holds without tightening, and which does not distort with time and allows the foot to breathe. Epitome of elegance and refinement, for an order of a minimum 6 pairs, we offer to embroider the initials of our customers on their socks.

No toxic substances in any of the threads used.

Knitting using an ultra-thin needle for perfect craftsmanship.

Use of natural fibres including cashmere, silk and cotton.

Manual finish of the socks so that the "assembly seam" is totally invisible and comfortable when walking.

Ironing, checking and manual pairing.

Delicate packaging without damaging the socks.

LET US GUIDE YOU BY OUR IMAGE ADVISOR DURING A DISCOVERY APPOINTMENT.