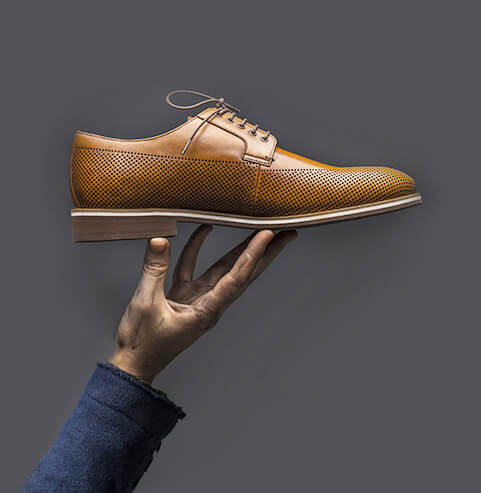 TAILORED SHOES IN BRUSSELS
THE LARGEST SHOE SHOP IN THE WORLD IS AVAILABLE FOR YOU.
We spend more than half of our lives in our shoes. This is why we have attached a great deal of importance to the development of an extremely comfortable and totally unique Tailor-Made product compared to the current available offers on the market. Advised by our Masters, you will compose your Custom-Made shoes according to your tastes, desires and use.

Our finest creations
Book with us a special moment (30 min.) of one-on-one with our tailor and image advisor. It is free and without commitment.

ORDERING A TAILORED SUIT, A PRIVILEGED MOMENT
YOUR FIRST MEETING WITH THE TAILOR MASTER, IN 3 STEPS
"TAKE THE TIME TO DO THINGS CORRECTLY"
Ordering a pair of Tailored shoes must be an exceptional moment.
That is why we work by appointment in a relaxed environment. Whether they are shoes for ceremony, business or casual wear, we will take the time to advise you.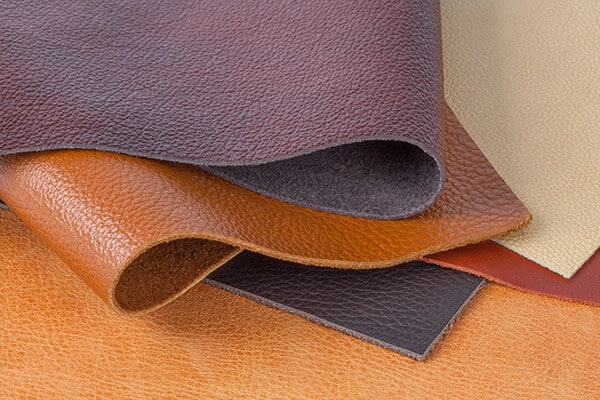 THE LEATHER
"A BEAUTIFUL SHOE IS FIRST A BEAUTIFUL LEATHER"
Whatever your budget is, we only offer leather from the best tanneries in Europe and especially the tannery of Puy which is known for its excellence in the field. You will have the choice between different calf skins, fallow deer but also exotic varieties upon your request.
We never compromise on the quality of leather that is the basis of a fine pair of shoes.
SHAPE, MODEL AND CONSTRUCTION
Do you prefer your foot to be strongly maintained or to be relaxed in your shoe? Are you looking for a design that refines your foot or rather a weather resistant shoe? Are your shoes for a ceremony, your job, or your free time?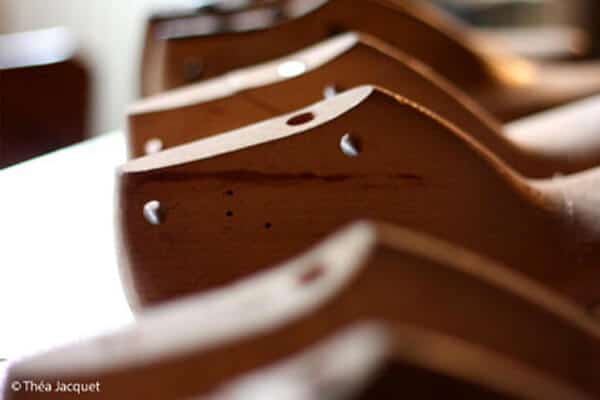 The choice of the shape of the shoe impacts the general aesthetics but also the footwear. Depending on the morphology of your foot, some shapes will suit you better than others.

The choice of model that you can choose in each type of form: "Derby", "Oxford", "Boots", "Loafers", "Monks",…

There are different construction options with mainly two different assembly types that stand out: the "Blake" giving a softer and more refined shoe and the "Goodyear" giving a more rigid and resistant shoe.
This step is particularly important for a Tailored shoe because once the shoe is made, it is no longer possible to adjust like a garment.
Our team will take care to observe your feet meticulously, and to measure them accurately and to take into account your requirements in terms of comfort.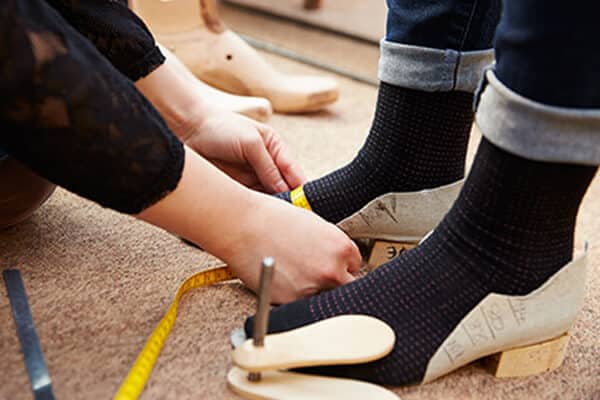 3 THE CHOICE OF THE MANUFACTURING WORKSHOP
Depending on your budget, you choose your finishing level amongst several European workshops.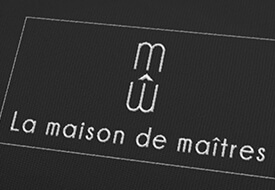 Black
Tailored shoes sewed Blake made in Spain from 399 €.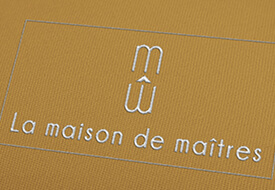 Aurum
Tailored shoes made by a bootmaker in Italy from 499 €.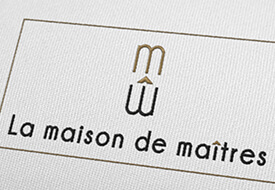 Bespoke By
Mario Bemer: Hand-made shoes from 1.199 €.
SHARING OUR PASSION WITH YOU FOR NEAPOLITAN TAILOR-MADE

SUBLIMELY LIGHT


SUBLIMELY STYLISH


SUBLIMELY CUT
TO DRESS EFFECTIVELY
Let your tailor take care of it
"I want to be stylish without wasting time"
LET US GUIDE YOU BY OUR IMAGE ADVISOR DURING A DISCOVERY APPOINTMENT.

TAILORED SHOES AND "GRANDE MESURE" SHOES
TWO OPTIONS, A SINGLE PASSION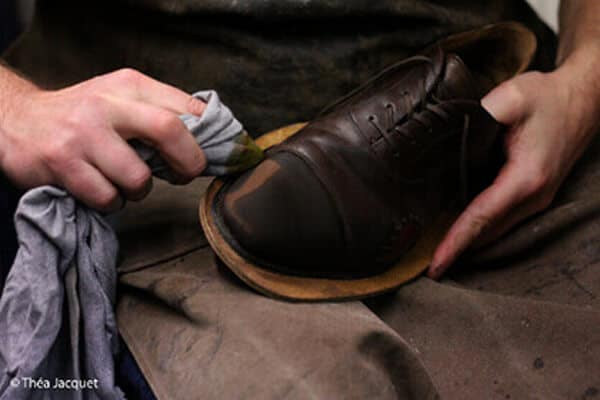 Tailored shoes
Same as for suits and dress shirts, the measurements are done in two steps: we first make a sketch of your feet, which we take the measurements directly from. Then, you try a fitting sample to gauge the "footwear", meaning your level of comfort in the chosen shoe shape. Alterations of the length, width and height of foot are, therefore, possible before producing the model.
Regarding the aesthetics of the shoe, there are many possibilities: choice of the type of leather, the color (with the possibility of making personalised patinas), the shape, the model and the built.
High-end shoe
The "Grande Mesure" shoe is considered the best of the best in shoe design.
For this rare and complicated service that requires more than 50 hours of work for a single pair of shoes, we collaborate exclusively with Mario Bemer.
This experience begins with a personal meeting where you define with him the model of shoe you like either based on an idea, photos or an existing model that you love. During this appointment, you also choose the leather, the patina, the assembly and all the details which makes your shoes totally unique.
Then, the shoemaker carefully takes the measurements of your feet that will allow him to make a wooden last and draw patterns of different parts of the shoe. He is also responsible for finding amongst the best global suppliers the different elements that will make up your shoes.
Based on the pattern, he will build "a trial shoe" that you will wear for a few days and on which possible adjustments can be made.
Finally, the Tailor-Made shoes are made and delivered to you after one last fitting.
Depending on the complexity of the order, the entire process can be carried out over 1 to 2 months.

GOOD MAINTENANCE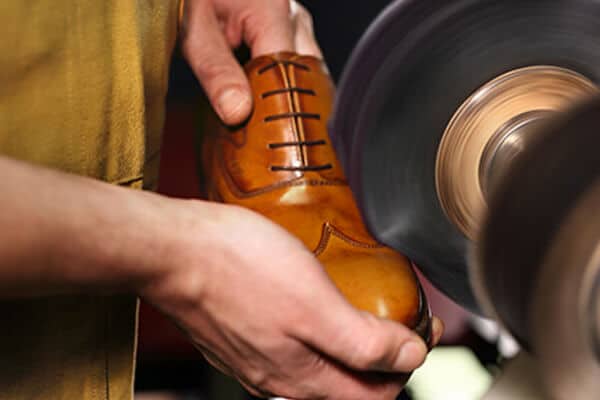 A good pair of shoes or a bag can last years if properly taken care of. Leather is a skin which requires brushing, cleaning, nourishing and regular protecting.

THE VARIOUS FINISHES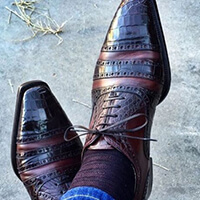 The upper
It is made of full grain leather in calfskin, ostrich, cordovan, crocodile, … from the best artisanal tanneries. For flower tips, we offer a series of patterns made by a Belgian craftsman.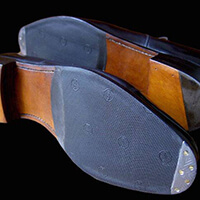 The anti-slip
In order to preserve it and make the shoe non-slip, we recommend the addition (optional) of an ultra-thin nylon pad and a built-in iron at the front of the shoe. These steps are carried out in Belgium by our artisanal shoemaking service.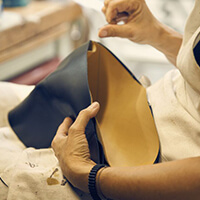 Lining
It is made of leather and unlike other brands, we use very high quality leather similar to the quality of the upper.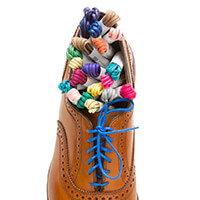 Shoelaces
It's a fun and easy way to personalise depending on your moods and outfits. We offer a range of laces in all colours.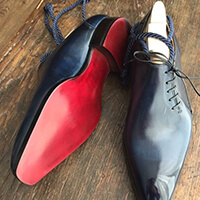 The sole
It is made of leather and can also be patinated in the color of your choice. Depending on its use, it is also possible to equip the shoe with Dainite soles made entirely of rubber or with more athletic soles. The heel can be made entirely of leather or in a more resistant leather-rubber mix.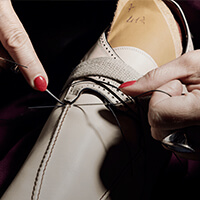 The seams
This is a very important detail. Each of the seams of the shoes that is done meticulously by hand: the edges finishing, the assembly between the lining and the upper, the different pieces of leathers, etc.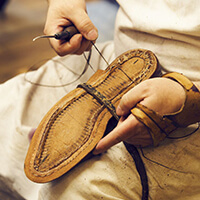 The welt
This is the most technical part of the shoe that demands the greatest know-how. Our welt is made according to the rules of craftsmanship by experienced bootmaker masters with the best equipments. All types of welt are mastered and we offer mainly 2: Goodyear welt and Blake welt. In both cases, the result is similar: perfect.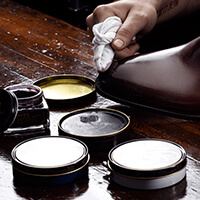 Patina
It is made by a master craftsman either based on our available line or à la carte based on photos. Various effects can be achieved which allows for any fancy details. We use only the highest quality products to ensure the durability of colours and effects.
LET US GUIDE YOU BY OUR IMAGE ADVISOR DURING A DISCOVERY APPOINTMENT.